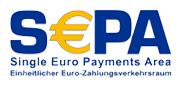 Direct debit - the eCommerce's classic payment method
With the SEPA Direct Debit payment processing system you can reach approximately 70 million private current accounts in Germany. Thanks to this enormous coverage SEPA Direct Debit is the most popular and common payment method found on the internet. This payment method is suited for billing any product - whether it is digital content or offline goods: You're always flexible with Direct Debit.

Direct Debit– intuitive & easy handling!
For your customers the payment process is more than easy: only the indication of account holder, bank code number and account number are necessary to start the payment transaction. After a successful data verification our system will pass the direct debit form to the bank's system. The requested transaction amount is now displayed in your ControlCenter.

Security through prevention measures
To prevent unwanted accounting errors, a plausibility check is run on the customer's indicated bank details. It is furthermore possible to use various "fraud prevention" features. We most certainly also use black- and whitelists of both internal and external application to verify all data. The analysis and evaluation of customer relevant data to classify risks minimizes failure of payments and the amount of reversed transactions. If a transaction has to be cancelled, modern dunning procedures and professional debt collectors will help you to retrieve your costs.