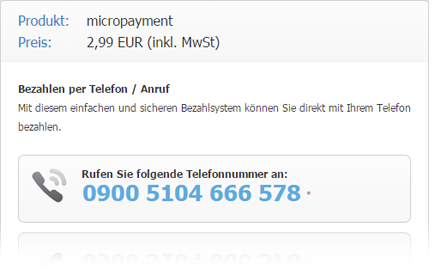 Call2Pay - the easy way to pay online
Call2pay was developed especially for paid internet content, such as eBooks, music, areas restricted for premium sites and online games. This telephony based payment method is popular with end customers and website operators thanks to its easy handling. Since Call2Pay is the most anonymous payment system thats available online and it doesn't come with time-consuming or laborious registration processes, it is a quick and convenient way to make payments.

The procedure is as easy as its integration:
The end customer calls a service number and is provided access to the desired content immediately. The costs will then be charged with his next telephone bill. The integration of Call2Pay for micropayment.ch partners is quick and incomplicated.