NEW from 08-28-2017
:
"The Klarna Group has aquired "SOFORT Überweisung" in the year 2014 and uses a unified design beginning at 28st August 2017. The payment method "SOFORT Überweisung" will be renamed to "Sofort." by now and the new brand, incl. logos will be established. For micropayment partners, there are no changes that need to be made."
altes Logo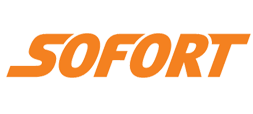 neues Logo
Online bank transfer. - the quick and effective solution for any type of amount
The online transfer option Online bank transfer. is a new and innovative payment method. Online bank transfer. unites the advantages of various classic payment methods and can be used to bill digital or physical products. No matter if its hardware, software, PDFs or user accesses: This payment method serves all shop & web solutions! Our long term experience and security measures regarding online transfers warrant a professional payment process.

Process - as easy as could be!
Your customer receives a transfer form during the order process and only needs to complete it with his bank account details: account number and bank code number. The transaction is confirmed with a PIN and TAN number.
Our system is simultaneously setting up a connection to your customer's bank and directly transfers the input data. Your customer will then receive a confirmation, notifying him that his bank has accepted the transfer. With this confirmation, the delivery of the products can be initiated.
Online bank transfer. ranges amongst the most flexible and secure payment methods.