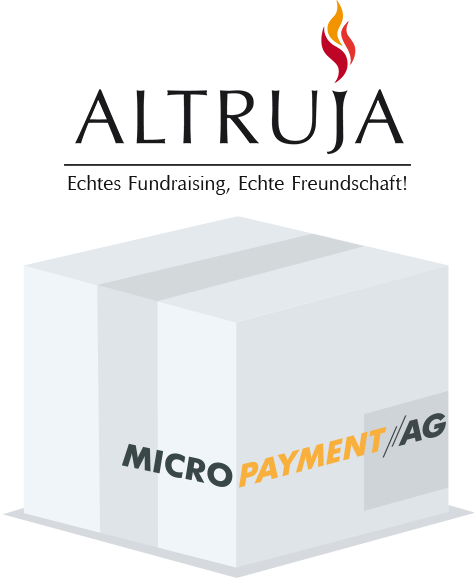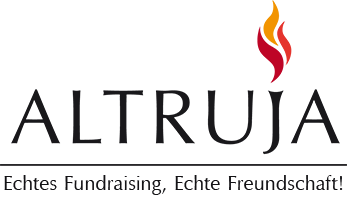 Altruja - integral fundraising
Get more from your donations
Micropayment and Altruja - a strong partnership for fundraisers. No matter whether you need a classic donation form or an individually tailored donation solution for your digital donors. We make it possible. Talk to us and discover which payment methods are the right ones for your donors. The integration of credit card payments via VISA, Mastercard or American Express, payments like PayPal, manual or automatic direct debit, Paydirekt as well as the integration of Klarna (known as Sofortüberweisung) are no problem for us.

It makes no difference whether you have one-time donors or also need solutions for recurring donations. Altruja and Micropayment - with many years of expertise, we build your digital donation solution in such a way that your target group is in full control of their money and has the highest level of transparency and security at all times. At the same time, your donation form remains comfortable and user-friendly - thus we reduce the abandonment rate to a minimum. Trust us as an experienced payment service provider.
As a subsidiary of Volksbank eG and as a medium-sized company with social responsibility, we support non-profit organisations in the area of online donations. Our entire team is personally committed to all donation organisations that trust our solutions - a matter of the heart.

Since 2008, Micropayment has been active in the donations market and is in charge of almost 450 fundraisers. The size of your organisation is not important for us. What counts is the joint success so that your organisation can make the world a little bit better.
---
Ten years of experience in digital and online fundraising as well as the people behind Altruja GmbH make the Munich-based company a first-class strategic partner to Micropayment in order to offer sustainable support in the non-profit sector. Altruja is characterized by holistic solutions in the donations market.

This is why we have further strengthened our long-standing successful collaboration by entering into a cooperation agreement in 2019. Thus Altruja and Micropayment offer a perfect solution for all those who want to make more out of their donations.
---
Registration of your Micropayment account
You have decided to use our payment methods for non-profit organizations. Thank you for your trust. Just follow the instructions on this page to expand your donation form with Micropayment payment methods.
Please register your personal Micropayment account first. On the website www.micropayment.de go to the tab " Login & Login " and click on " New customer / registration ".
In the " Legal person registration " section, click on next ".
Here are just a few steps to initiate, confirm and complete your registration. Please follow the instructions and instructions carefully during the registration process. If you have any questions, feel free to contact us at vertrieb@micropayment.de or at +49 (0 ) 30 - 3000 772 240 .
Verification and configuration of your Micropayment account
1. Send us your documents for identification:
After the successful registration of your Micropayment account, the legitimation process follows.
Please provide us with the following documents if you are a registered association:
current excerpt from the register of associations (not older than 3 months)
Foundation documents of your association
current exemption certificate
current Articles of Association
two-sided ID card copy of the authorized signatory
Proof of your SEPA Creditor ID
Please provide us with the following documents if you are a foundation:
certificate of foundation
founding documents
current exemption notice
current Articles of Association
two-sided ID card copy of the authorized signatory
proof of your SEPA creditor ID
IMPORTANT : If according to the register of associations or according to your statute only two members of the board are authorized to represent each other, we need a copy of the ID card from both authorized representatives.
Please understand that further documents may be requested.

You can either upload your identification documents in your Micropayment ControlCenter, send them by email to vertrieb@micropayment.de or by fax to (+49) 30 - 3000 771.
2. Deposit of your bank account
Now deposit your bank details under " Customer data " and " Account details ", which will later be used to pay your donations.
3. Your first Micropayment project
Also part of the legitimacy is a quick review of your website. In order to have them ready, please create your first project in your Micropayment account. This will later also be used for the technical assignment of the individual payments.
Log in, move your mouse pointer to the " Configuration " tab and click on the sub-item " Projects ". Now click on " Create project ", fill in the form and click on " sign in " in the bottom right corner.
4. Apply for your credit card acceptance
The payment method credit card of Micropayment must be requested separately. Together with your order data sheet you will optionally receive your service agreement for credit card acceptance, which we will provide you together with our partner bank, First Cash Solution GmbH.
Your credit card acceptance application will also be completely pre-filled. Please check this once. If all the information is correct, have the agreement signed at the following two points:
Page 3 under " 9th Submit " at the blue dot
page 4 under " 10th SEPA Mandate " at the blue dot
Once the signatures are set, please return your claim for credit card acceptance to the postal address in the original at the following address:
micropayment GmbH
Team Fundraising
Scharnweberstraße 69
12587 Berlin

Micropayment payment methods
Donation by credit card
Several billion cardholders make credit card the most widely used payment method in cashless, international payment transactions. We handle both single and recurring donations via VISA, MasterCard or American Express for you. Micropayment has the highest certification in the handling and processing of credit card data (PCI:DSS Level 1 certified). They do not come in contact with sensitive payment data and do not need expensive certificates.
Your credit card special conditions as a non-profit organization:
| power | service fee | explanations |
| --- | --- | --- |
| disagio Visa / Mastercard | 2,5 % | per operation |
| disagio AMEX | --- | seperate agreement |
| transaction | 0,30 EUR | per operation |
| paying out | inclusive | weekly |
| commitment fee | inclusive | monthly |
| setup fee | inclusive | unique |
| availability | --- | worldwide |
Donation via SEPA direct debit
Electronic direct debits are extremely popular in Germany. Micropayment processes your one-time and recurring SEPA direct debit payments - fully automated and secure.
Incidentally, we can also realize your direct debit via your own bank account. Just contact us if you are interested.
Your SEPA Direct Debit Special Conditions as a non-profit organization:
| power | service fee | explanations |
| --- | --- | --- |
| fees | 1,45 % | per operation |
| transaction | 0,30 EUR | per operation |
| commitment fee | inclusive | monthly |
| setup fee | inclusive | unique |
| availability | --- | SEPA |
Your special conditions with Micropayment with the fundraising box for the bank transfer:
Prepayment by bank transfer is extremely popular with donors and is offered by most organizations as it is a fully automated system that records your cash receipts in detail and reduces all effort for you.
Your bank transfer special conditions as a non-profit organization:
power
service fee
explanations
fees
0,75 %
per operation
(min. 0,10 EUR max. 5,00 EUR)
transaction
0,00 EUR
per operation
refund / customer credit
0,08 EUR
per operation
cancellation fee / cancellation
stornofrei
per operation
commitment fee
inclusive
monthly
setup fee
inclusive
unique
availability
---
worldwide
These special conditions are exclusively awarded to non-profit organisations. If you want to deposit your own bank account, the fees change.